Brugge restaurants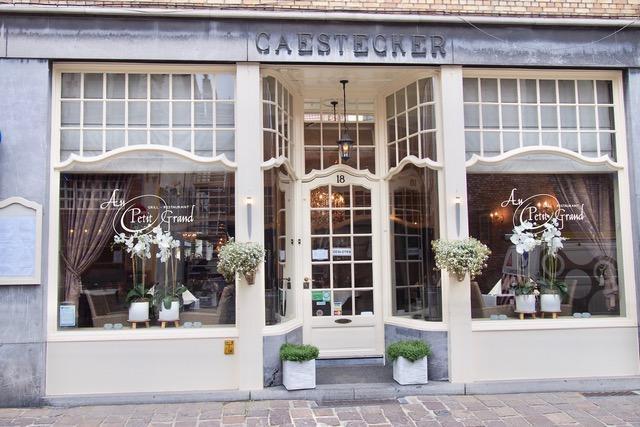 Beery places with good food
This article recommends a number of places in Brugge where we enjoy eating. Not all the places we recommend also do good beer, but a number of our Guide entries do offer good food as well as good beer. You you can find these places listed here.

Of these, our favourite for food is Cambrinus. The food here is good quality, extremely consistent, and service is fast. It needs to be, given the size of the crowds it often deals with. For this reason, booking ahead is highly recommended. We love their beef steaks with mushroom sauce - see photo below.

Just a few doors away, younger sister Cafe Cambrinus also now does a full menu - and again, quality is high. Not in the Guide, but the Cambrinus twins' new sister pub, Flandrine, does really excellent food - including a highly memorable venison stoofvlees on our first visit, November 2021.

In 't Nieuw Museum is another old favourite, and if you like big, grilled meats then this is the place for you.

Huis de Cluuse and Vlissinghe are two good options for lunch, and Halve Maan is good for food large and small, with its extensive all day menu.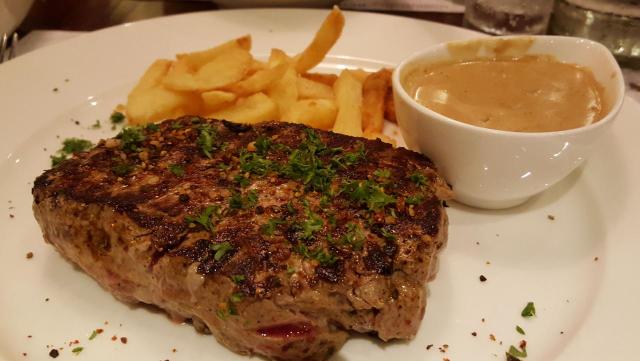 Steak with mushroom sauce at Cambrinus.
Other Brugge restaurants
Brugge has hundreds of restaurants, many catering very obviously for the tourist market. Here are a few of the other ones:

Malesherbes, Stoofstraat 5: the deal here is you mustn't tell anyone else about this hidden gem, tucked away down a little alley near Brouwerij Halve Maan. It's a French restaurant, run by an owner and team with great personality. It's tiny, so definitely book ahead.

Au Petit Grand, Philipstockstraat 18: locals in the know say this is the best restaurant in Brugge. We haven't been to all of them, so we can't be sure, but we do know that the steaks here are incredible - and they're cooked on the grill in the open kitchen area at the front. We've enjoyed a number of visits here and are happy to recommend. See photo above, by Leila Waller.

Bistro Christophe, Garenmarkt 34: this place is a little off the beaten track, south of the Markt. Food has been excellent on the various occasions we've eaten here, and we've been particularly impressed by the stoofvlees (beef stew) - and the frites are very good too.

Seafood Bar Belge, Eiermarkt 14: the new restaurant from Lindsey and Patrick, previously of In den Wittenkop (which has now closed). The quality of the food when we first visited in November 2021 was excellent - and they had Gouden Draak on draft.

Poules Moules, Simon Stevinplein 9: this is in a very central location, and you could be forgiven for thinking it would always be overrun by tourists, but we've enjoyed a number of good meals here in relative peace and quiet. Strangely enough, the chicken and the mussels are normally very good.

De Koetse, Oude Burg 31: big steaks on an open grill, just round the corner from Poules Moules, above.

De Schaar, Hooistraat 2: lovely neighbourhood restaurant off the beaten track, about 10 minutes' walk from the Grote Markt, south of Langestraat. Very close to our Guide entry In 't Nieuw Museum. De Schaar's delicious salmon and pasta dish is highly recommended.

De Nisse, Hooistraat 12: between De Schaar and In 't Nieuw Museum, this is a cosy place run by a husband and wife team, one doing the cooking and one front of house. Food and ambience are both lovely.
Going upmarket
If you fancy a splurge or have a special occasion to celebrate, then Brugge has a couple of excellent Michelin starred restaurants, both of which we highly recommend:

Sans Cravate, Langestraat 159: if it's on offer, we recommend one of the multi course tasting menus, with wine. Allow plenty of time, but the quality here is really excellent. The restaurant is at the very end of Langestraat, near the outer canal and windmills. See photo of one of the tasting menu courses below.

Den Gouden Harynck, Groeninge 25: older in style and it's been around a good bit longer, but this restaurant offers high class dining near the centre of town.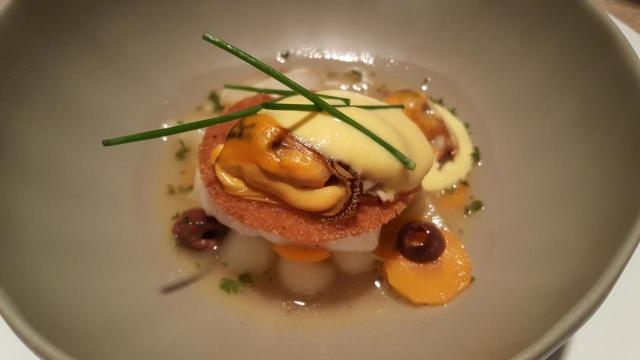 The superb food at Sans Cravate.
Cheaper eats
Two places we would recommend to fit a lower budget are:

Casa Patata, Rozenhoedkaai 6: contrary to popular opinion, we don't rate most frites places in town particularly highly. There's nowhere on the same level as Frituur No,1 in Antwerp, for example. But Casa Patata's frites are pretty good, and there's a decent view too.

Carlito's, Hoogstraat 21: very reliable and efficient pasta and pizza restaurant, part of the Charlie Rockets youth hostel complex (but don't worry, it has its own separate entrance).