't Brugs Beertje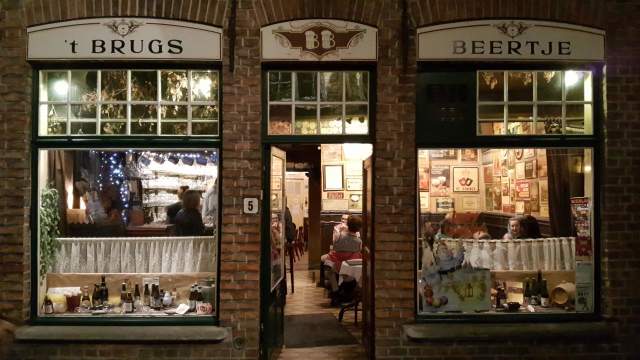 Kemelstraat 5
Brugge
8000
(Markt, Burg and around)

050 33 96 16
Legendary beer café, one of the world's classics and the best in Belgium.
Jezza says
The Little Bear of Bruges started in 1983 under the ownership of Daisy and Jan, pioneers in the promotion of Belgian beer. After they split, it became Daisy's place, known the beer world over simply as 'Daisy's'. After over 33 years, Daisy retired at the start of 2017, but the new owners (connected with the hugely successful Cambrinus on Philipstockstraat) have done as they promised and kept things much the same. The only changes made by new boss Dries have been improvements, such as accepting card payments, installing wifi, expanding the beer range, and Tuesday opening. There are three rooms, the back room (beyond the loos) generally only being used on busy weekend evenings. The bar is the very definition of a classic brown café. It oozes history, ambience and breweriana. The music is classical. You will get talking to locals and tourists alike, and the beer range is excellent. There are now 7 drafts, and an expanded list of specials and seasonals brings the overall range to more than 350. If you only go to one bar in Brugge make it this one. Located between the two main shopping streets – go on Steenstraat from Markt towards 't Zand square and turn right into Kemelstraat.
Back to the pub search.
---
---